As part of national commemorations for the 100th anniversary of the end of WW1, ABF The Soldiers' Charity South West Region are hosting a musical contribution to remember the fallen.
An outstanding classical programme of distinguished and timely compositions presented by:
Exeter Symphony Orchestra conducted by Brian Northcott
Exeter Philharmonic Choir led by Stephen Tanner
Sophie Rosa – World-renowned violinist
Tim Noon – Organist
Elizabeth Jane Baldry – Harpist
Davina Hastings – Soloist
Rachel Firmager – Cellist
and accompanying Pipes and Bugles
Guest Speakers to be announced
Compere: BBC Devon's David FitzGerald
 Another date for your business diary. David FitzGerald will host this event at City College Plymouth.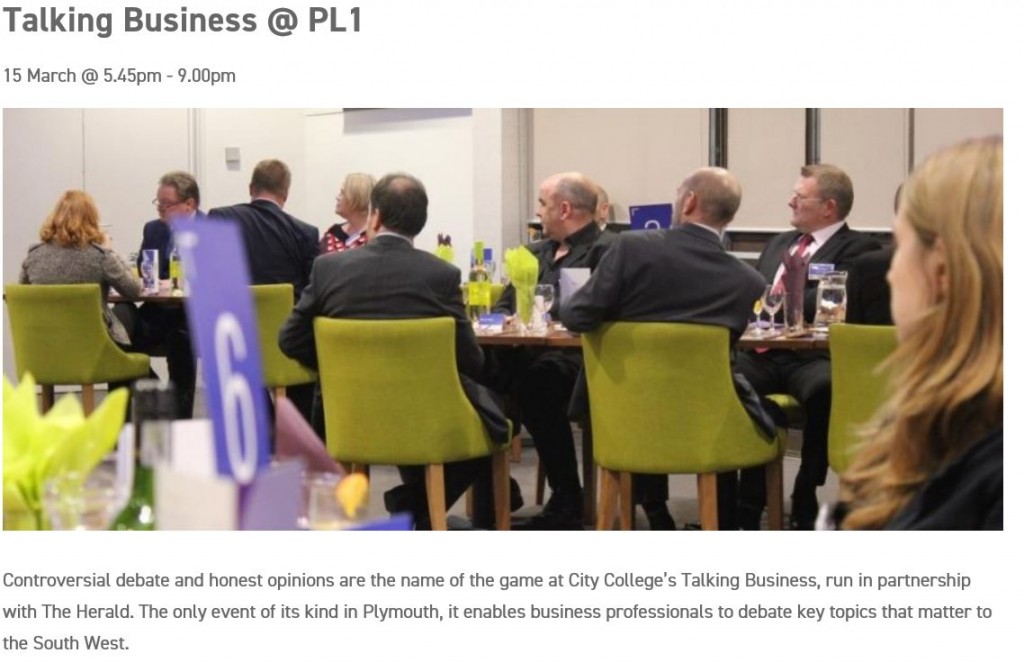 Talking Business @ The Duke of Cornwall
January 25 @ 5:45 pm - 9:00 pm
Is Plymouth the sleeping giant of tourism?
Controversial debate and honest opinions are the name of the game at City College's Talking Business, run in partnership with The Herald. The only event of its kind in Plymouth, it enables business professionals to debate key topics that matter to the South West.
Hosted by David FitzGerald, the special guest speakers will be James Brent, Chairman of the Akkeron Group and Plymouth Argyle Football Club, and Jason Schofield, Chief Executive of Sutton Harbour Holdings, discussing tourism in the city. They'll be talking about Plymouth's current position as a leisure and tourism centre and how they hope to enhance the City to help it become a national and global visitor destination.
Join us for an evening of dinner and debate, and hear from top guest speakers! It only costs £17.50 per person to attend, including a two course meal with wine. This very special Talking Business will take place at The Duke of Cornwall Hotel where our students will be working in the Duke's double rosette kitchens.
To book your place, e-mail employers@cityplym.ac.uk or call 01752 305026.