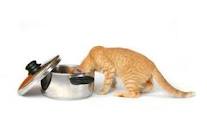 The enemy, the good lady wife, is back tomorrow from her jaunt to Florida so I will keep this column fairly short as I have a lot of work to do. I have been fending for myself for the last fourteen days now so the house does need a bit of attention, well, either
that or a small well controlled fire. So, here is my list of things that I have to get on with before the front door opens and 'Hurricane Enemy' arrives!
The thin layer of underwear lying on the  floor near the wash basket will actually have to be picked up and placed in the receptacle provided. For the next 24 hours I am going to have to  wear at least three pairs of pants and socks and then add them to the pile  of washing to give the impression that one has been changing one's  kniccy's on a regular basis and not acting as a typical bloke who has been  left on his own! Repeat exercise with shirts.
Remove cat food from the hall mirror. Long  story, haven't got time to tell you about it now.
Discover recipe for some sort of pudding  that needs nine pints of milk and thirty eggs. I was told to cancel them
and forgot. Well, actually I put the note out last night so now we won't  have eggs or milk until mid April now.
Tell kittens that they can no longer eat  directly from the fridge.
Remove rotting veg from veg rack and place  in the composter.
Remove rotting cheese from fridge and  place in the composter.
Remove rug from the front room and place  in the composter. Again long story linked to cat food on mirror incident.
Wash the one plate I have managed to use  since she left the country two weeks ago. Repeat with the coffee mug and
the spoon which has doubled as an eating utensil and sink un blocker.
Remove the quarter of a pound of sweet  corn from the kitchen sink hole. (Note to self)  Spoon wasn't that effective might try  shifting blockage with her hair straightening tongs.
Add rescued sweet corn to sausage  casserole which I have lovingly prepared for her return. Then tell her that
I am in fact out tomorrow night and will eat at the pub.
Find hoover, possibly where I left it two  weeks ago, and make the bed for the first time in a fortnight. Invent
credible story as to why there is a hole in the dining room wall.

And finally 12. Sit down and look shattered after leaving the hoover in the middle of the room with the flex trailed towards the wall socket and fill the air with squirts of furniture polish.
Oh, and 13. Remember to keep her away from this website.
Yours, absolutely exhausted
Fitz