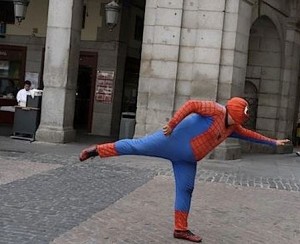 So how was your Friday 13th? Mine lasted two days with at least a month of aftermath! On the day itself I finished the show on BBC Radio Devon, jumped into the car and drove to Portsmouth to stay with friends, as Saturday we had been invited to go to The Goodwood Revival. You are expected to dress in period costume and wallow in cars, cars and yet more cars, with planes slung in…….I was there like a shot. Anyway, three hours later we rock up in Portsmouth and I go to the boot to unload the luggage. (By the way that is the last time the boot has opened due to an electrical fault…) It was at this point that I discovered that I had left said luggage hanging on the back of the front door, months of preparation, swinging in the breeze, two authentic 1950's outfits, tailored, altered, even a genuine 1950's hat for the enemy, the good lady wife, sat in Plymouth. So after a small tantrum the lady of the house suggested I borrow one of her husband's suits. Now Don, is at least three inches taller than me and slimmer.
'No, seriously,' I said, 'There will be nothing suitable'. But then as the wardrobe door swung open I found the first two offerings not half bad.
'How about this one?' his wife said.
'That is appalling,' I muttered. 'It might just work. And that tie is awful, let me put it on. This stuff is so outdated, it's marvellous.'
So…Friday the 13th …..plus one…. started well and a great day was had by all. In way of thanking my fashion unconscious friend I suggested taking him and his good lady for dinner. Half way through the Chinese, there was a bang on the window and we witnessed a common sight these days, two youths beating up another, who I later found had done nothing other than phone his girlfriend on the walk home. Stand up 'Captain Justice from
Plymouth' or the Cosham Avenger as I am known in that part of the country.
'I am not standing for this,' I yelled to an uninterested restaurant and I sprinted for the door. Now there are two things I should remember at 51 years old….firstly I don't sprint and secondly what the hell was I going to do when I got to the fight! But I need not have worried. In mid sprint I tripped on the carpet and used my face as a braking mechanism, crashing to my knees and smashing my face into the door handle with such violence that the entire restaurant front shook, startling the two assailants. They then fled, I bled. Staggering outside, spattered in blood, I pointed to the fleeing youths in a 'let that be a lesson to you manner' and turned to the young man who was shaken but otherwise unhurt.
'Are you aright? I enquired I my best super hero voice.  He looked up and the site of blood dripping from my eyebrows and elbows with the bottom of my trousers soaked red as I had left most of my knees on the carpet rail inside the restaurant and his mouth fell open.
'I'm fine he said…..but you don't look so good.' And wandered off!
I returned to a now startled restaurant and bled on the wantons for a while. The owner asked if I wanted to phone the police?
'No but I suggest you call You've Been Framed if you have CCTV,' I replied and stemmed the flow of blood with a small wad of noodles.  Anyway that was my Friday 13th, how was yours…?
Fitz