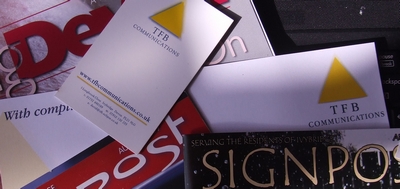 TFB Marketing
Under the guidance of Karen Rayfield BSc (Hons) TFB Marketing can develop and assist your business, guiding it through the minefield of marketing and promotion.
Having spent nine years with The Vospers Motor House Group and eight years before that with the Co-operative Society, Karen has a wide knowledge and experience of retail marketing, customer service and strategic planning.
Credit Crunch Ice cream was launched in early July 2008 with the press jumping on the product. Delivered to the House of Commons, the national newspapers and broadcast media, the ice cream was soon sold out and a fresh batch was made for the public to enjoy at a greatly reduced price allowing those who were feeling the pinch to enjoy a little pleasure in hard times.
From the development and execution of television, radio and press advertising to event management and hosting, TFB has the expertise to help your company, no matter what the size or its needs in the market place.
And if your company is thinking of preparing for Investors in People, TFB can organise a staff development programme, which can work towards your IIP accreditation.
Karen has completed work on the branding of local companies guiding them towards an image that suits their marketing needs.
Karen has worked on the Ivybridge loyalty card, an exciting project designed to promote the shopping facilities of the town. It's introduction and success has been a blue print for other community based schemes. Here are a few pdf examples of the art work that will be offered as possible card designs – 1 : 2
TFB Publishing
The development and publication of Signpost the community magazine for the Ivybridge area has been running since August 2005.
Supporting the people and businesses of Ivybridge, Karen has put her vast experience and creativity behind this project and has come up with a winning formula for a local magazine. Reaching thousands of homes directly, it is a cost effective way to advertise to the people of Ivybridge and beyond as there are two affiliated magazines printed for Yealmpton, Newton Ferrers, Noss Mayo, Ermington, Ugborough and Modbury.
Kingsbridge had its own Signpost style magazine 'The Post' which was sold to its new owner in January 2011.
Contact us today on 01752 690189 for advertising rates and feature material.