Well what a week.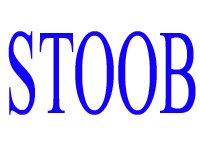 I had a stoob moment in the bathroom on Monday. What is a stoob moment? Well eagle eyed readers will have sussed that the word is boots backward and it involves carpet tiles, the bathroom scales and me! I stepped gently onto the device to see if my Greek god like torso had changed in anyway over the last couple of weeks and  STOOB. That's the imprint left on the carpet from the manufacturers name on the back of the scales. I am not sure what I weigh as I wasn't wearing my glasses but I know I lost a couple of nails plucking the bloody scales out of the shag pile afterwards. I have moved the scales around the room on a regular basis trying to get a more accurate reading, by the radiator seems to be best.
The enemy, the good lady wife, did point out that by having them there, it does allow me to rest my paunch on the towel rail and thus suddenly lose a stone and a half! I think that has appeared in the Simpson's but let me assure you that I have been doing it for years and it works. I admit it, I am 49 and my age and my waist seem to be in tandem. Roll on 50!
We have had five cloudless days in Devon and most of the population seem to have gone 'baboon's bottom red. But the sudden sun has guaranteed the reappearance of  'DFS woman' as I called her. I noticed one on Plymouth Hoe this afternoon, about five foot tall and my weight giving the world a wonderful fashion parade and a glimpse of what every teen bullock is wearing this summer. Just for the record, she had a crop top restraining a couple of overly ripe Stilton's, a skirt the size of a hankie for a gerbil and a mid rift like a DFS sofa.
This charming young debutant wandered by, then stopped to rummage in her hand bag for a wet wipe. On bending over she gave me and most of Saltash a scene reminiscent of a meat delivery to the rear of Dewhurst's but on a positive note it did remind me that I must worm the cat. Apparently she had stopped to get said 'wet wipe' for her young beau who had just dropped his breakfast, a rather slippery can of Special Brew. However, it must have been love as she spent a good five minutes wiping lager froth off his ankle tag.
All the best
Fitz